Description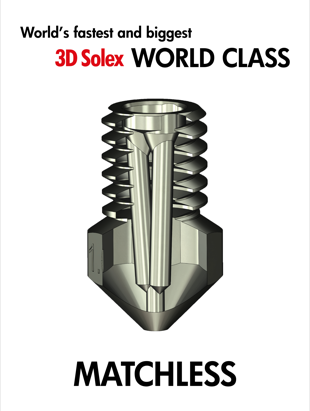 These nozzles will allow you to print spool after spool of ANY material. Our clients appreciate the following two features:
1) The tip will never wear out from printing
2) The tip is always "hot", so releases filaments better than any other nozzle.
There is a 1 year guarantee on this nozzle.
1) If it cloggs up, we fix it.
2) If  the tip wears out, you get a new nozzle.
This nozzle us built with our patented MATCHLESS technology. These parts inside the nozzle will wear out.
The guarantee cannot cover this worn out mechanism. In the event that you should irrecoverably clogg this nozzle, we will restore the nozzle and remove the Matchless core. The nozzle will then behave like any ordinary nozzle; speed-wise. The diamond tip will still be hot.
We soon also have 0.50mm DIAMOND! This is perfect for architects and engineers, for a sometimes better "relation" to the slicer in a metric model. Example when walls are 0.50 mm, 1.0mm, and so on. We are making this nozzle for Google and are now adding it to our catalog, for you.
Printing Carbon Fibre on a standard nozzle will destroy it completely in a few hours, or less than 500g filament.
This nozzle can print all day long, month after month.