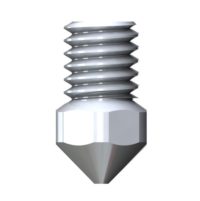 Sale
Helps prevent PLA sticking to nozzle Will not carry blobs of PLA or any other filament around your print!
Super easy Cold Pull!
Lasts even longer than stainless steel nozzles. For some users it will "payback" after first use!
(Ill. image- actual image coming).
For UM2/ UM2+
Improved PTFE part for UM2/+. A very handy spare part to have.
WOW! Heated Bed for Um2Go! Brings the bed to 110C and the print head to 290C, if you need.
No more trouble getting stuff to stick! This is one of our coolest upgrades!
Super Slip Oil to use on Rods Only! A GREAT Product! Will Never dry out. Will never corrode your precious printer. Will never turn into wax, ever!
Optimized for 3D Solex V3 Block. Backwards compatible with "Olsson Block". This high tech nozzle will significantly increase plastic output, completing prints faster. Alternatively, you can print cooler!