There are no more items in your cart
Shipping

Free

Total

€0.00
This kit will completely transform your Ultimaker 2/2+.
Price
€116.00
Regular price
€130.00
 In stock
This great kit consists of 5 nozzles, for the UM2+ / Matchless / Olsson / E3D:0.25-0.40-0.60-0.80 ICE Brass nozzles + 0.40 Everlast Ruby
Price
€69.00
Regular price
€99.00
 In stock
All sale products
 
Raise3D N2 Matchless Nozzles
We Are Not Kidding
FOR N2 Series Only.
This high tech nozzle will significantly increase plastic output.*

Alternatively, you can print cooler!*

We have customers finishing 16h prints in 4 hours.*

Less dripping, if any- varies with material.*

Surface treatment prevents "locking" with aluminium block.
We will not share your information!! We back our products with 2 year guarantee, except where noted, especially with consumable products.

If your order is delayed more than 3 days from us, you will be notified!

You can return any unused product within 30 days of purchase!

You can always contact us to change the order!
Sizes 0.25- 2.0mm  Worlds Biggest Nozzle for Raise3D N2.

Prints up to 4 times more output.*

Prints cooler, - 5-15 deg Celcius.*

100% drop-in compatible

-Matchless Race Technology prints up to 4 times faster then a standard nozzle of the same size.*

-Hard metal coated Brass. Makes for easier outside cleaning.-Precision manufacture in Norway at an ISO 9001 certified facility.

* -does not apply to 0.25mm and  as this small size does not benefit from the Matchless technology.

* - 0.40mm not available yet.

Usage suggestions, adjust speeds up / down form here:

Greatly increase plastic throughput according to this formula. In many applications you can benefit from printing an equally low layer as before, but several times wider so you need fewer passes since the wall will be 1-2mm thick just by one pass.

Nozzle size (mm) X layerheight (mm) X printing speed (mm/sec) = cubic mm plastic/sec.

0.60 nozzle example: 0.60 x 0.15 x 150 = 13.5 cubic/sec.

1.0   nozzle example: 1.0 x 0.3 x 100 = 30 cubic/sec. ( already world record for Raise3d).

2.0   nozzle example: 2.0 x 1.0 x 40 = 40 cubic/sec. ( !! ).

2.0   alternative xample: 2.0 x 0.15 layer x 100mm/sec = 30 cubic/sec.


Using a BONDTECH feeder for Raise3D can significantly increase these figures, on some cases up to double ore more, depending on your filament, model, and printer/slicer settings.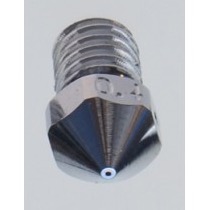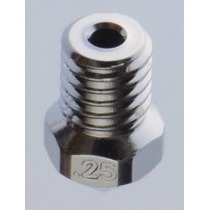 Specific References
ean13

7072482001816
No customer reviews for the moment.
1 other product in the same category:
Raise3d N2:: Super hard and super fast nozzles for Raise3D N2You can now print almost any abrasive material on your Raise3D N2,Almost forever!