Description
This kit gives you everything you need to upgrade your Ultimaker 2 series printer with the Bondtech QR extruder for 2.85/3.0 mm filament, solve your underextrusion and feeding problems and be able to print much faster with sustained quality.
This kit fits Ultimaker 2 Go, Ultimaker 2, Ultimaker 2 Extended, Ultimaker 2+, Ultimaker 2 Extended +
Hundreds of happy users around the world.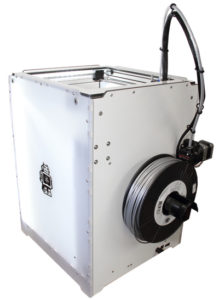 Print with flexible filaments with reliability
Kit contains:
1 x Bondtech QR Extruder 3.0 mm
1 x Mount for Ultimaker 2
1 x Cable for steppermotor (plugs into controller)
4 x M3x20 screws
4 x M3 nuts
8 x M3 washers
1 x Anti vibration tpu isolator
1 x Filament guide
1 x Push-fit clip
1 x Detailed step by step installation guide
1 x Updated firmware for easy installation
Installation guide is downloadable by the link below.